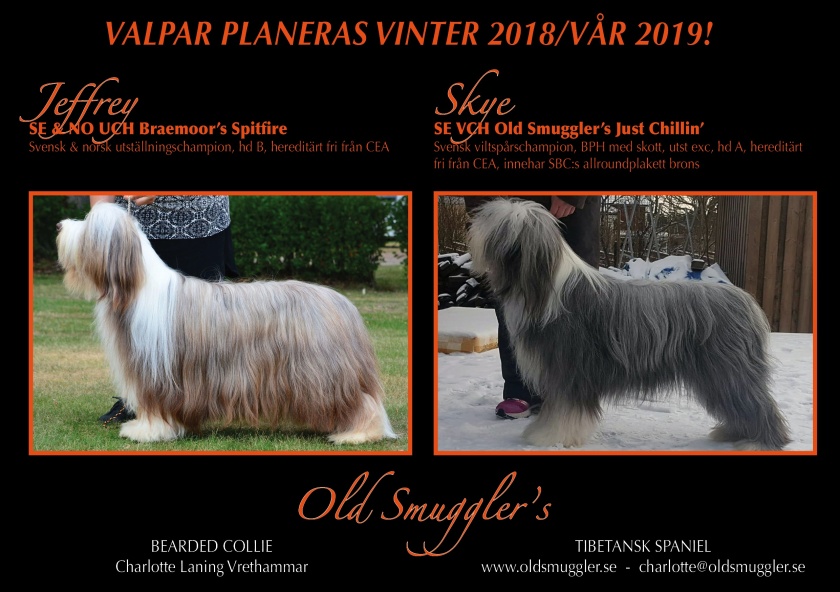 Ch Braemoor's Spitfire

Ch Babbacombe Olympic Bonfire

Babbacombe Imagination
Babbacombe As Good As It Gets

Braemoor's Ready Made

Ch Braemoor's Firecracker
Ch Bushblades Ready to Rejoice

SE VCH Old Smuggler's
Just Chillin'

Ch Spindrift Bend it Like Beckham
Ch Nonesuch H'Air Jordan
Ch Spindrift Something About Mary

Old Smuggler's
Tickled Pink

Ch Alistair's Jolly Good Fellow
Ch Old Smuggler's Hat Trick
We are expecting a litter of puppies in mid April 2018. Kiara - Old Smuggler's June Monsoon - lives with her owners in Dalarna, Sweden, and I am fortunate enough to have her with me for a litter of puppies. Kiara is a lovely type of Beardie with a solid, confident temperament. She is herding certified, she passed an aptitude test for blood tracking and has gone through the Swedish Kennel Club's temperament evaluation BPH with very nice results. When I found out that her owners would let me lease her for a litter, I immediately knew which dog I wanted to breed her to. James - Old Highland's Joyful Joker - is almost eleven years old with a very nice pedigree (actually going back to a bitch from my breeding - Ch Old Smuggler's On High Heels) and a great temperament. James has only been to one show where he was awarded Excellent. He has only sired three litters but have had very nice puppies - conformation and temperament. I have high hopes for this litter!
Both parents have had their hips x-rayed and scored A. The preliminary hip index for the litter is 100. Kiara has been DNA-tested clear for CEA.
Please contact me if you are interested in a puppy!
Tintin had seven strong, healthy puppies on February 14. We have three boys and four girls - they are all spoken for.
After much contemplating I finally decided on a sire for Tintin's next litter. She has been bred to Ch Beastly's Tweed Kettle, a. k. a. Hugo, who meets all of my expectations in a sire; he is seven years old (=not too young), he has only had one litter (=not a "popular sire") and his pedigree offers some diversity which is so valuable in a breed that is as inbred as the Bearded Collie. Hugo also has a stable, friendly temperament and both he and Tintin have been examined under the Swedish Kennel Club's temperament "profiling" BPH. Both of them also have A hips. Tintin's litter brother is currently the #1 Agility Beardie in Sweden. Puppies should be due around February 17, 2017.
Pedigree for the planned litter below, COI according to the Swedish Kennel Club (5 generations) is 0,6%. For 10 generationer (which will give much more relevant information) COI is 9,3% which is very low for our breed.
More photos of Hugo can be found below the pedigree.
Should you be interesting in getting in line for a puppy, please do not hesitate to contact me either by email: charlotte@oldsmuggler.se, or by phone +46-72-3176022.
Ch Beastly's Tweed
Kettle

Ch No-Nonsense's
Baronbyron

Ch No-Nonsense's Xiebert
Thuja Vom Schavolliehof

Ch Beastly's Never Mind

Ch Breaksea Norwegian Wood
Beastly's Tomorrow Never Knows

Old Smuggler's
Tickled Pink

Ch Alistair's Jolly Good
Fellow
Potterdale Star Attraction
Ch Alistair's Cheek to Cheek

Ch Old Smuggler's
Hat Trick

Ch Old Smuggler's Carob XS Baggage
Ch Old Smuggler's Firecracker
Our much awaited puppies are here!
Tintin - Old Smuggler's Tickled Pink
- was bred to a gorgeous dog through the use of frozen semen - Ch Spindrift Bend It Like Beckham. Tintin had six puppies. The last one born did not survive unfortunately but we have five beautiful babies born Feb 20, 2016 - two boys (brown and fawn) and three girls (all blue). All the puppies have gone to their new homes except, of course, for the two that are staying with us!
I was very fortunate, being asked to judge a regional specialty in the US this past summer. In a large Best of Breed class with many very nice dogs was a blue dog. Proud, friendly, beautiful and just enough of everything. He was an easy choice for BOB and of course I was very curious to find out who he was. His name was MBISS GCH Spindrift Bend It Like Beckham PT MX MXB MXJ MJB MXF T2B2 PD SPS SPJ SPG SPK SPR CL1-H TDI CGC VX - I was clearly not the first one to "find" him! Beckham was bred by Pam Harris, Spindrift, and is owned by Shannon Smart.
Picking a dog for a top award at a large show is one thing. Wanting to breed to it is another. Back in Sweden I started thinking - everything felt good about this boy. He is friendly and very good tempered. I know most of the dogs in his pedigree, especially on his sire's side. He has some old bloodlines going back to the original American imports so would bring some diversity to Sweden which feels like one of the most important things in our breed. I had also put up several of his puppies at the same show. For health reasons I want to avoid using very young dogs for breeding and also want to stay away from the popular sires when possible (easier said than done...). Beck is six years old and has had five litters. He has OFA Good Hips, OFA Clear Elbows, thyroid, CERF and CEA clear.

There is icing on the cake too. Lots of icing, actually, as Beck has a long and very impressive list of accomplishments, not just in the show ring. Beck's owner, Shannon Smart, bought him as an agility dog and promised the breeder to show him as well. Here is a list of some of his wins and titles as well as a few videos:

Versatility Excellent

Agility:
Qualified for AKC National Agility Trial
MX (Master Agility Excellent), MXB (Master Bronze Agility), MXJ (Master Excellent Jumpers With Weaves), MXF (Master Agility Fast), TB2 (Time to Beat)
Closing in on MACH (Master Agility Champion)
High in Trial BCCA National JWW 2015 (Jumpers with Weaves)

https://www.youtube.com/watch?v=Xu3Jp4AC21w

Herding:
PT (Pre-trial tested)
One leg Started A Sheep

https://www.youtube.com/watch?v=uKM8tHsSSAg

Conformation:
BOB BCCA National Specialty 2012 (breeder/judge Sue O'Brien, Sammara) BOB NCBCF Regional Specialty 2013 (breeder/judge Alice Bixler, Bedlam) BOB NCBCF Regional Specialty 2015 (breeder/judge Charlotte Laning Vrethammar, Old Smuggler's) Award of Merit NCBCF Regional Specialty 2014 (breeder/judge Ian Copus, Rallentando) Select Dog NWBCC Regional Specialty 2014 (breeder/judge Sharon Ipser, Wigglesworth) Award of Merit NWBCC Regional Specialty 2015 (breeder/judge Ian Copus, Rallentando) Award of Merit BCCA National Specialty 2015 (breeder/judge Gail Miller Bisher, Gaymardon) Several BOB and Group placements including Group 1st.

Also:
Legs in obedience and rally obedience
Canine Good Citizen (CGC) och Therapy Dog International (TDI)
Ch Spindrift Bend it
Like Beckham

Ch Nonesuch H'Air Jordan

Ch Nonesuch Arlin Too Much Fun
Ch Nonesuch Unchained Melody

Ch Spindrift Something
About Mary

Ch Highlander Wildest Dreams
Ch Spindrift Charmed I'm Sure

Old Smuggler's
Tickled Pink

Ch Alistair's Jolly Good
Fellow
Potterdale Star Attraction
Ch Alistair's Cheek to Cheek

Ch Old Smuggler's
Hat Trick

Ch Old Smuggler's Carob XS Baggage
Ch Old Smuggler's Firecracker